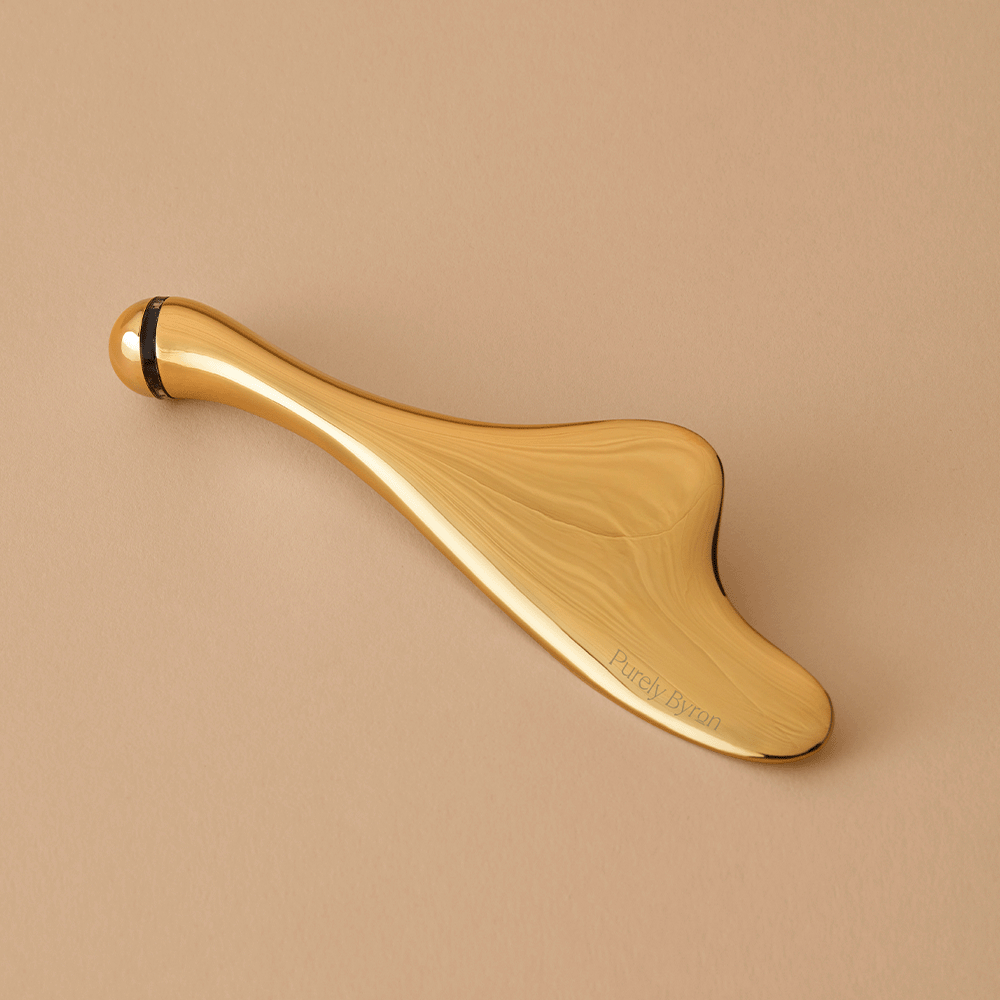 Divine Ritual™ Face Sculptor
$80.00 AUD
$80.00 AUD
Sale

• Save
Contour & Lift | 24k Gold Plated
While this may look like a small gold sculpture, it's actually quite practical. Huh? How? Why?

- It reduces the appearance of puffiness, especially if popped in the fridge first! We recommend 15 minutes.
- On one end there is a small solar panel that transfers light into an invisible (you won't feel movement or vibration) microcurrent function, helping to lift facial skin and activate skin muscles. Leave in direct sunlight for 30 minutes before use.
- It helps stimulate lymphatic drainage, meaning it helps move fluid from certain areas through massage, helping the face to look more sculpted.
- It works your products in deeper by pressing them further into the skins dermis through pressure, restoring vitality and radiance.
- Our Divine Ritual™ Balm is the perfect companion, allowing the tool to slip and glide across the skin, while helping this rich balm work its magic faster and deeper.
Our luxury massage tool helps reduce the appearance of puffiness while working to lift, sculpt and firm your skin. Divine Ritual™ Face Sculptor helps to manually massage and strengthen facial muscles, stimulate lymphatic drainage, and restore vitality and radiance to your skin.
Ideal for all skin types, especially dull and fatigued skin.
Rhythmically. After cleansing, press a pea-sized amount of Divine Ritual™ Balm into your skin before starting to glide Divine Ritual™ Face Sculptor lightly in upward strokes, being careful not to drag or pull. Use lighter pressure on your forehead and around the eyes and medium pressure on the cheeks, jawline, and neck. After use, wash the tool with warm, soapy water and place back in its storage case for safekeeping.

External use only. Keep out of the reach of children.
Please keep and reuse the gift box to protect your face sculptor. Wash and dry after every use.
Our planet thanks you.
The Purely Byron Face Sculpting Ritual
Begin your ritual with freshly cleansed skin and by applying a pearl-sized amount of Divine Ritual™ Balm to your face, neck, and décolletage. Holding the point of your chin, take the wave side of Divine Ritual™ Face Sculptor and start at the top of your jaw where it meets the earlobe, gently sweeping down the jawline to release stiffness and encourage lymphatic drainage. Run very gently down the throat and across the collarbones. Move to your cheekbones and sweep from the nose folds to the temples six times each side.

With the long side of the tool, gently work the product into your forehead with horizontal sweeping movements, finishing vertically between the eyebrows to release frown tension.
Finally, gently sweep the eyebrows from the centre, holding for three seconds on the temple pressure point. The ritual should take around five minutes; take your time on places that feel tight while breathing deeply and practicing gratitude. Drink plenty of water after your ritual to help flush excess fluids and toxins out of the lymphatic system. After use, wash the tool with warm, soapy water and place back in its storage case for safekeeping.
100%
would recommend this product
Face Sculptor

Face Sculptor is absolutely amazing i wish i knew about it sooner, I love it and the quality is definitely there!

So beautiful!

This is such a beautiful tool, its really heavy and feels super luxurious.

It really helped me work my face oil into my skin, I'm going to try with your ritual balm next!

Im already planning a few of these as Christmas gifts.. Thanks!
Reviews Loaded
Reviews Added