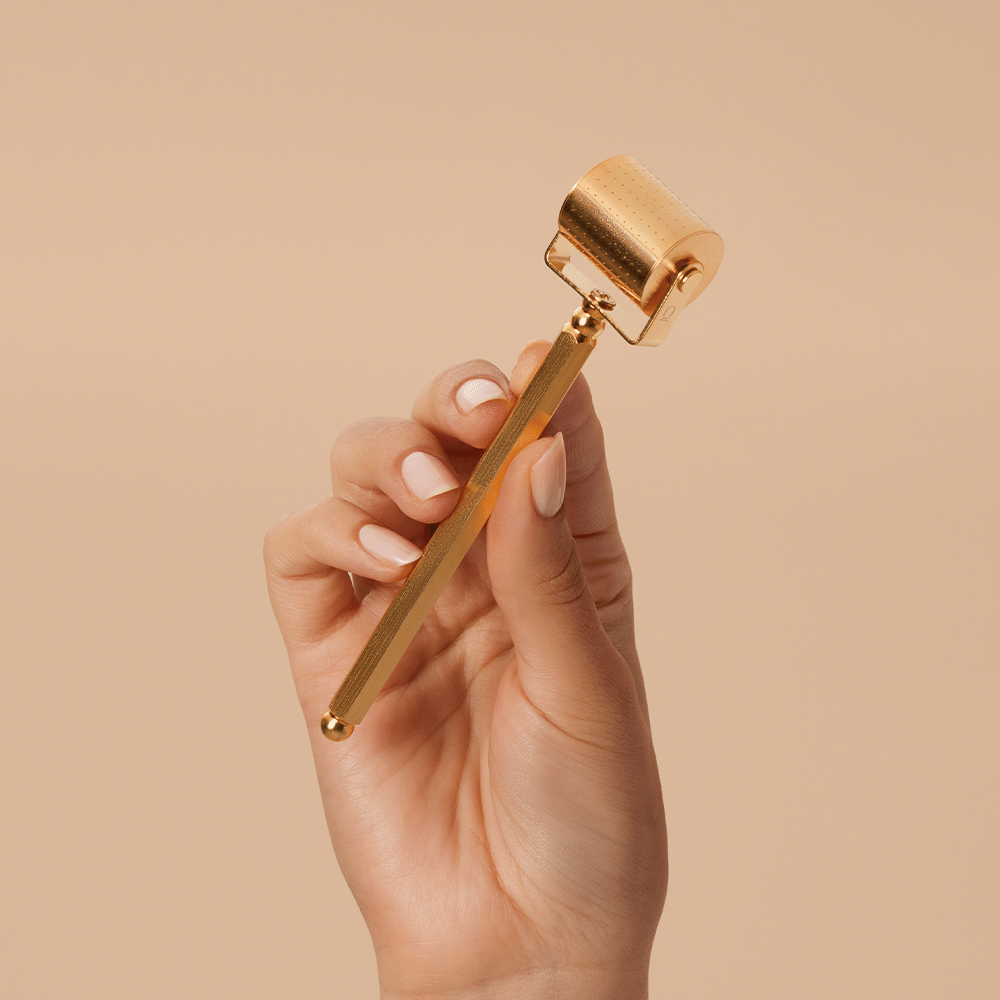 Divine Ritual™ Derma Roller
$100.00 AUD
$100.00 AUD
Sale

• Save
Refine & Renew | 0.5mm needles

Derma Rolling. Let us give you the 411.

- Encourages Collagen and Elastin production, while help treating hyperpigmentation by enhancing skin turnover.
- Beneficial for all skin types (scarred, dehydrated and hyper-pigmented)
- Helps skincare to penetrate more deeply, and work a little harder.
- Looks a bit scary, but we promise, it's painless.
Our skin-invigorating tool helps refine and revitalise skin tone, texture, and radiance. A truly transformative, at-home treatment tool, Divine Ritual™ Derma Roller is 24k gold-plated with 250 titanium microneedles at 0.5mm depth that help to (painlessly) stimulate cellular renewal, boost Collagen production, and improve the absorption of any skincare product to follow.
Ideal for skin concerns from acne and congestion to sun damaged and dry skin.
Any questions about how, or how often to to use, or if this would be good for you, feel free to reach out on our website Live Chat. 
Diligently. Begin with your evening cleanse and then pat skin dry. Start to roll Divine Ritual™ Derma Roller over your skin's surface with light to medium pressure on one section of the face at a time. Repeat 3-5 times for each section of the face, rolling vertically, horizontally, and diagonally. Then followed by a pearl-sized amount of Divine Ritual™ Balm. You can generally expect some degree of erythema (redness) after skin needling and this soothing balm will help to reduce the appearance of redness while hydrating the skin.

Use weekly in the evenings to allow skin to replenish while you sleep. You can increase to 2 or 3 times per week over a period of months as your skin adjusts, just take it slowly and be gentle.
External use only. Use only in the evening to allow skin to replenish overnight. Do not use if you have active acne, open wounds, or easily irritated skin. Keep out of reach of children.
To clean your Derma Roller, mix some ocean-friendly detergent and warm water in a small container. Dip the Derma Roller into the mixture and let soak for 5 minutes. Rinse under hot water. Let dry standing in the case but not closed. Once fully dry, close the case and store in a safe place.

Using isopropyl alcohol is a great way to disinfect your Derma Roller. We recommend using this method fortnightly. Simply pour isopropyl alcohol into the lid of your crystal case, and leave to soak for a few minutes.You can also buy a spray version, which you can spray on liberally to disinfect.

Do not ever, (EVER!) scrub your Derma Roller or you will damage the delicate needles. You can however use a soft toothbrush.
Always rinse off the isopropyl alcohol under a warm tap and allow to completely dry before replacing in its case.

Always store your Derma Roller in its crystal case. With regular use (2-4 times per week), the roller should be replaced approximately every 9 months, even with very good care. If it's blunt, it won't harm, it just won't be as effective.

The rainforest-sustainable carton is printed with soybean ink and would love to join your recycling.
Our planet thanks you.
The Purely Byron Derma Roller Ritual
After you've completed your evening cleanse, using light to medium pressure, gently roll Divine Ritual™ Derma Roller from the centre of your forehead up, down, and across the skin, repeating 3-5 times. Begin rolling along the cheek contour, moving down to the lower cheeks, the chin, and along the jawline. If you have any congestion or enlarged pores on your nose you can gently roll over the skin. Finish by rolling up, down, and across the neck. Expect your skin to look flushed or a little red for 24-48 hours following your ritual, so we recommend not using any other serums or tools. A pearl-sized amount of Divine Ritual™ Balm will help soothe and calm your skin and have you glowing by morning.
97%
would recommend this product
Beautifully Made

Beautiful beauty tool that really revives my skin

Danielle P.

Verified Buyer

Amazing

I'm in love with my derma roller, it has definitely improved my skin texture. I use the balm as well it's Devine.

I would highly recommend Purely Byron

Youthfulness in a roll

I have noticed a huge difference in my skin tone & texture using this little tool. It's super luxe & nice to handle.

Rebecca H.

Verified Buyer

Great product!

Such a great quality device. Noticed a slight difference after a few uses.
Reviews Loaded
Reviews Added