My ritual with Vanessa Hammond
We recently sat down with @vanessahammond to talk about her fave daily rituals and her Purely Byron skincare routine.
How does skincare fit into your morning routine? You sound like a super busy woman!
My skincare routine slides in just before I leave the house. It's how I mark the moment to start my day. Even if it's as simple as a light serum to refresh my sleepy face before the morning coffee and the day full of activities.
Are there any daily rituals you simply cannot miss?
My daily ritual I simply can't miss is my local stroll running into neighbours before meeting a crew down at the local coffee shop by the beach. I need to see the ocean every day.
One morning ritual you cannot live without (besides your skincare routine)?
One Morning ritual I can't live without is cuddling my kids and husband in the morning and making my bed. Both set me up for day. It's the simple things.
Shop Cotton Muslin
What is your staple product from the range?
Ohhhh my! How can I choose one? The entire range is so thought-out. But if I must choose one it's the Native Sunrise™ Blend Serum. My skin could live off that alone.
Shop Serum
Why do you find massaging so important and relaxing?
It's an instant nervous system relaxer, it brings you into the moment, back to being into touch with your body and brings your face back to life.
Shop Balm
What do you love about the Northern Rivers?
I live in a beautiful place called Palm beach, It's the backbone to our life. It's an absolute life source full of incredible families, the most magical slice of beach with both ends having stunning creeks. Walking distance to everything you need…… honestly I hardly leave.
Shop Face Sculptor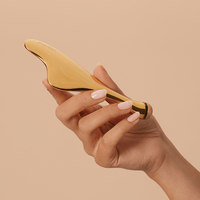 Divine Ritual™ Transforming Facial Collection
$180.00 AUD
$180.00 AUD
Sale

• Save
All you need to bring a little Byron into your bathroom for a restorative skin treatment at home. Our 5-piece Divine Ritual™ Transforming Facial Collection includes some of our Purely Byron favourites that work together to nourish and rejuvenate.
Salvation for dry, dull, puffy skin, Divine Ritual™ Transforming Facial Collection is a full facial in a beautiful, sustainable gift box.
Contains:
- Divine Ritual™ Cleansing Oil 50mL
- Native Sunrise™ Blend Serum 15mL
- Divine Ritual™ Balm 50g
- Divine Ritual™ Face Sculptor
- Divine Ritual™ Cotton Muslin Cloth